The Aspire Feedlink Revvo Squonk BF Starter Kit utilizes a dynamic squonk-ready Feedlink Box Mod integrated with a regulated voltage chipset to pair with the new Revvo Boost BF Sub-Ohm Tank with a maximum capacity of 9mL.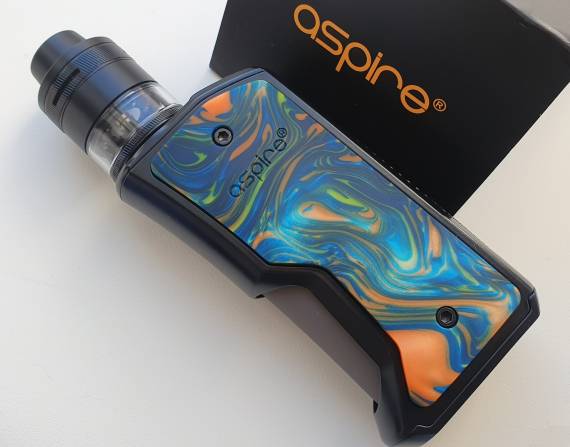 Dimensions: 87.2 x 46.5 x 30mm
Weight: 185g
Case material: zinc alloy + resin
Power: 1 x 18650 Bottle
capacity: 7ml
Voltage range:3.0 – 4.2V
Operating mode: BYPASS
Supported resistance: 0.1 – 3.5Ω
Protection: against low / high resistance, against overheating, against short circuit, against incorrect polarity
Connector type: steel 510, pin is gold-plated, spring-loaded
Color: see photo below
Revvo Boost tank
Case material: stainless steel + plastic
Atomizer type: maintenance-free
Evaporator resistance: 0.1 – 0.14Ω
Capacity: 2ml
Diameter: 24mm
Height: 36.6mm with drip tip
Connector: 510, pin is gold-plated
Weight: 29.5g
Color: only dark
Package
Contents – Feedlink Revvo squonk mod
– Revvo Boost tank
– replaceable evaporators 2pcs 0.1 – 0.14Ω (one pre-installed)
– spare glass
– spare origins
– user manual
– warranty card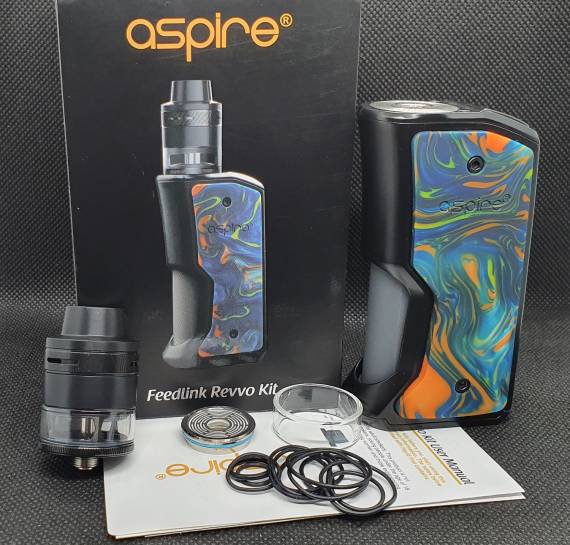 We start with non-service, because it goes to the load to the mod, how would you not like it. It looks simple – a minimum of decor – and thanks for that. Dimensions are quite compact.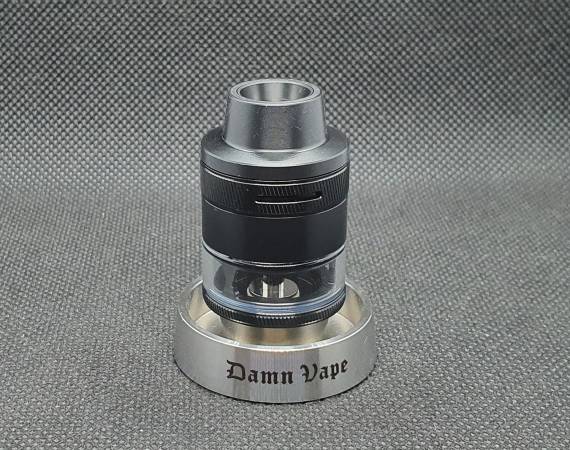 Drip type, it's also a top cap, plastic, moreover, non-removable. In work, he is quite normal – I have almost no complaints. Underneath is an airflow adjustment ring that dangles but has a stopper. It made three air intake holes. The puff varies from fairly loose to tight, but not cigarette of course. There is no processing of the dome – a platform perpendicular to the vertical axis of the atomizer. Air descends between the dome and the outer shell of the atom and blows the evaporator from above, as it were. All this construction is supported on the base on a threaded connection.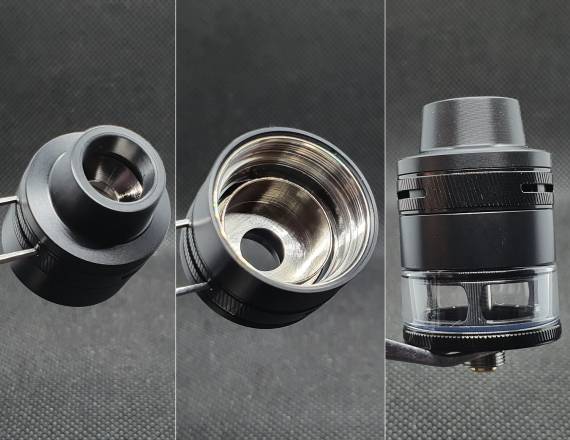 And the evaporator here is "curly" – disk. In fact, this is the same shift, but you can get the hang of it and service it yourself, but I assure you – you should not do this – later you will understand why. It is fixed by a V-shaped platform. There is no way to refuel the tank from above. Yes, and the pre-installed (non-removable) squonk pin hints to us for appropriate use. Of course, you can bury it from above, but there is not so much cotton wool in the evaporator, therefore it's enough for a couple of puffs – no more. Through the squonk pin, only the tank is filled, the evaporator itself is only wetted by tipping the kit completely.


The flavor of this tank or maintenance-free RDTA was not impressive, it reminds me of the level of unserviceable average damage worthy of being sold only in a set. Now I understand why these radial evaporators are not widely used. Several manufacturers launched projects with them, but not one took root. In short, the non-service is almost a "slag", which is why I said that you should not rewind it yourself) It's better to talk about fashion, but it's just the opposite.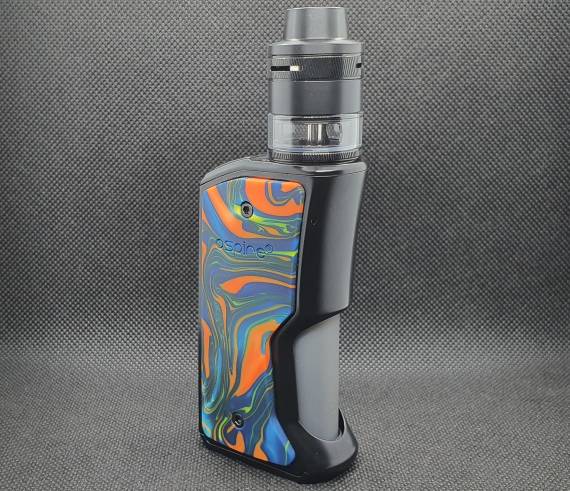 The design is quite original – a mod is made like a "pistol" handle. Either resin panels or corrugated lining, again in the arms style, were used as decor. In the first case, the price tag will be slightly higher, but while I was going to, copies with a more modest design snapped up. Therefore, I had to choose this one.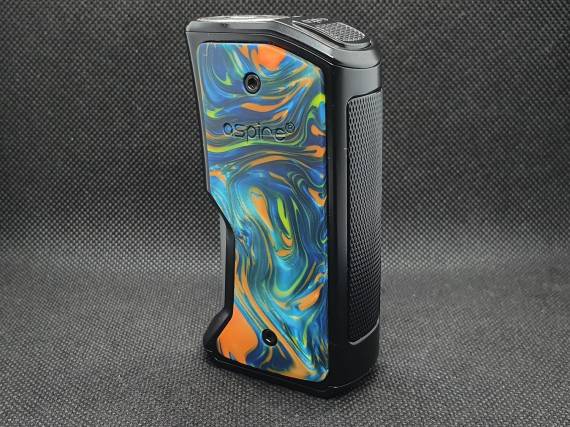 The front side of the mod is concave, on the back is a corrugated platform, the dimensions are relatively compact. Therefore, decent ergonomics was not long in coming – however, this was expected. Perhaps the only nit-picking from me will be only a misunderstanding of why it was to make resin panels so thick. However, even with them, the mod is quite calmly taken into a closed grip – to operate handy with the exceptionally thumb. And just a few words about weight – this is not an easy instance – it feels good in the palm of your hand. It would be worth making it a little easier.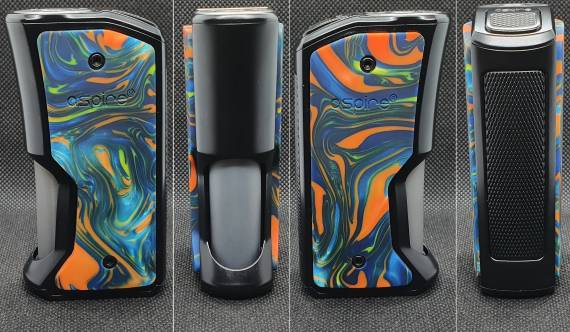 The landing pad is steel, it seems that it is not at all raised above the main building. But there is an oring, which will protect it from tealots, and the connector will seal. True, he is not fixed in any way – he himself will not fall out, of course, but you can brush it off by negligence. Landing maximum of only 24mm, or rather almost 24.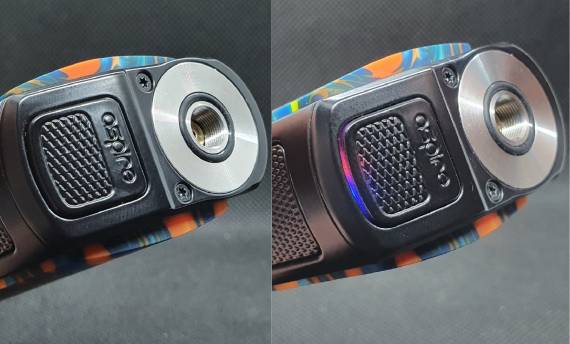 Next door is a large fire button, it is executed correctly. Firstly, there is a side so that a random liquid from the atom does not flow under it. Secondly, it is located on a sloping platform. And even despite this, it is convenient to use it only if you throw the little finger under the mod with a grip. If you hold all your fingers on the front side of the mod, pushing it is not particularly comfortable, but possible. It is pressed with medium effort, a clear click, medium volume. Moreover, only its rear part is active. In addition, an LED indicator is built into it, which signals the current battery charge or transmits messages of tripped protection. In short, in general, I liked this whole element.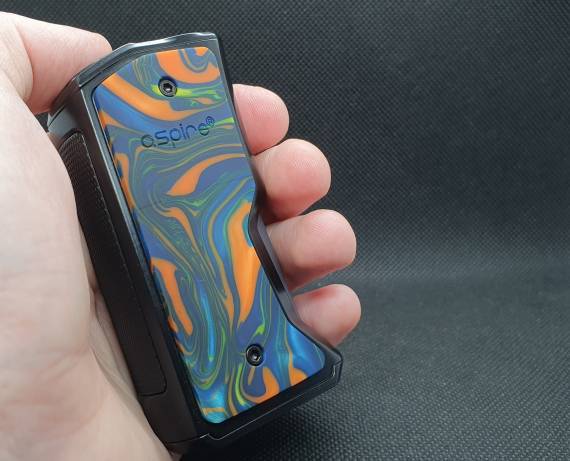 The window for clicking on the bottle is large, moreover, you can easily click on it without changing the grip – it's very convenient – that's right like it! for this. By the way, a pair of fingers fits perfectly into this notch right away, adding confidence to the grip. The bottle is removed from the bottom – and then everything was performed on a five. At the bottom of the bottle is a raised plastic key – half a turn and the bottle itself pops out. Moreover, he also competently "wrapped" in a case. The internal elements are metallic, as is the lid itself. There are risks, however, they are not particularly necessary, since bottles can be refilled through the lid. The hole is executed in the manner of a non-return valve or something – it is spring loaded – therefore, press the bottle with the slurry with your nose and just pour it. Putting it back is generally a song – just inserted, twisted and voila. No need to put on a hose, check to see if you pushed it out of the bottle. Its capacity is not the largest, but sufficient. Pressing medium elasticity – yet the plastic case does the trick. In short, there's a direct bow to the manufacturer – everything is simple, convenient and works fine.


Access to the battery compartment is also blocked by a half-turn cover with a relief key, but already metal. The only remark here is the lack of clues on the polarity of the battery, although if there is protection, this question is not worth the word at all. The battery inside sits perfectly, not a hint of backlash. By the way, both covers at the bottom behave perfectly – they lock securely, conveniently and quickly open – like again.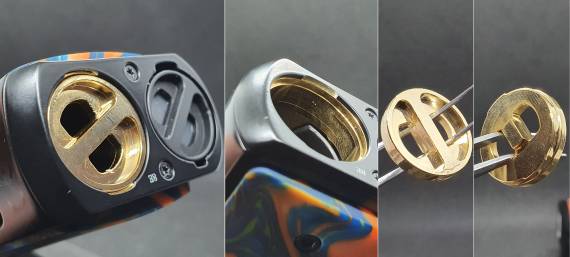 In operation, the control chipset proved to be expected normally – well, it's very difficult to hook up here))) It functions in bypass mode, I liked the "settings" – in principle, I'll call them adequate. On a high resistance (MTL) perky, maybe even a little too perky, on a low (not directly sabom) is also not bad. However, it must be understood that its capabilities are limited to about 80W – respectively, and you need to select the appropriate winding. But once again I regret to note that the average resistance (0.35 – 0.55Ω approximately) does not carry such a functional to the spirit. It is simply unprofitable. Although, it would seem, just a small tasteful drip with a coil in 0.3 – 0.5 would be most welcome here.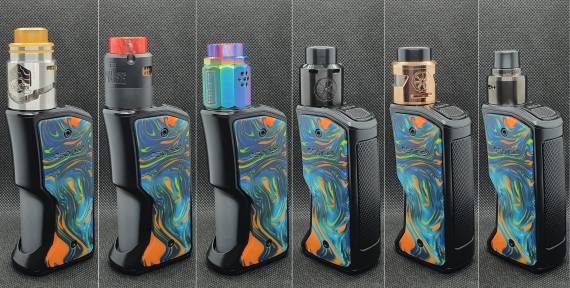 Impressions
Not for nothing that I looked at this instance for a long time – my instinct did not disappoint me. I generally liked the squonk mod. I have not dealt with Aspire products for a long time and that's what struck me was the attention to detail. It seems that the construct of the bottle does not represent anything special – but no, everything is thought out, but nothing extra has been invented. This also includes caps at the bottom, a well-thought-out fire button and convenient refill of the bottle without disassembling the latter. With this, the top refueling is not needed.) And I'm still silent about maybe one of the best "ergonomics" in the segment of my belonging. Yes, and the design can be called at least original. In fact, I did not find any critical minuses in this device.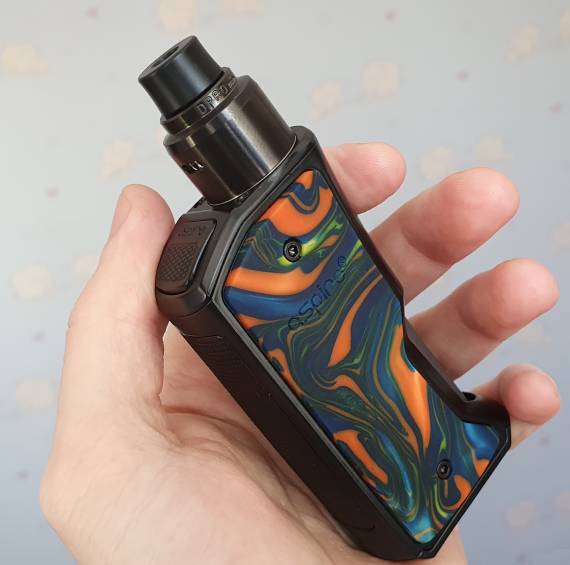 I undertake to recommend, unambiguously, naturally, adjusted for the fact that you are aware of which atom and with what resistance you are going to wind it. And the price tag, you know, favors)
Advantages
Original design
Ergonomics
All the same price
Workmanship
Convenient refueling – no need to unwind the bottle
Convenient fixation and extraction of the bottle and battery
Comfortable interaction (pressing) with a bottle
Disadvantages
Unloading ballast in load
The inability to charge the battery
The mod is heavy
Not suitable for "medium" resistance