The second on the agenda will be a set much more serious – rather, it should be called the new-found term "sub-mode." He came out from under the wing of IJOY, which knows a lot about creating this kind of start-ups.
IJOY JUPITER KIT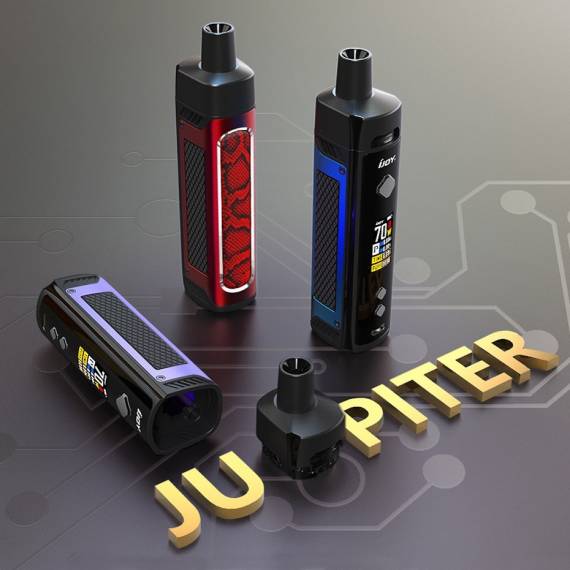 Dimensions: 117 x 30 x 25.5mm
Weight: unknown
Case material: aluminum alloy + zinc alloy + plastic + "skin"
Power: 1 x 18650
Chipset: Univ
Cartridge capacity: 5.0ml
Evaporator resistance: 0.2 / 0.6Ω
Output power : 5 – 70W
Voltage range: 3.2 – 4.2V
Operating mode: POWER
Supported resistance:unknown
Protection: from low / high resistance, from overheating, from short circuit, from overcharging / overdischarge
Connector type: magnetic
Screen / diagonal: yes, 0.96 "
Micro-USB port / charging: yes, charging current is unknown
Color: see photo below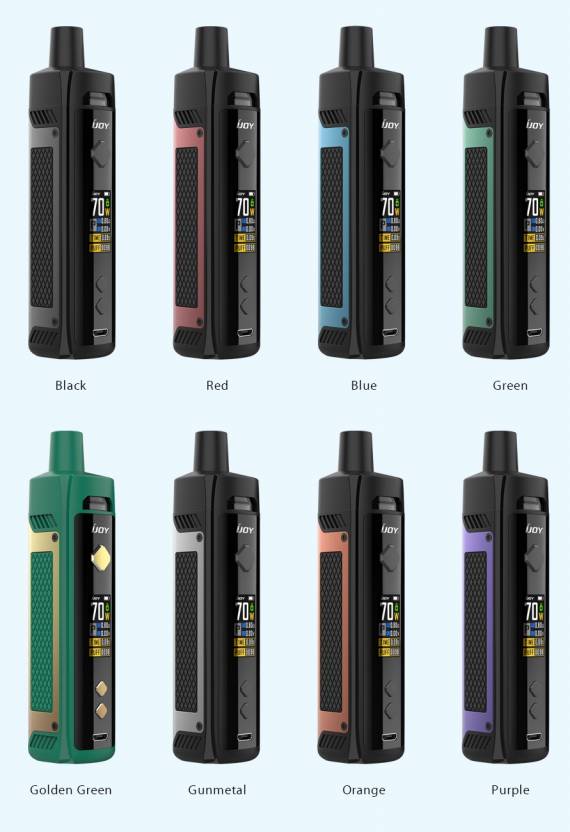 Options
– JUPITER mod
– replaceable cartridge (pre-installed)
– replaceable evaporators 2pcs 0.2 / 0.6Ω (one pre-installed)
– USB cable
– user manual
– warranty card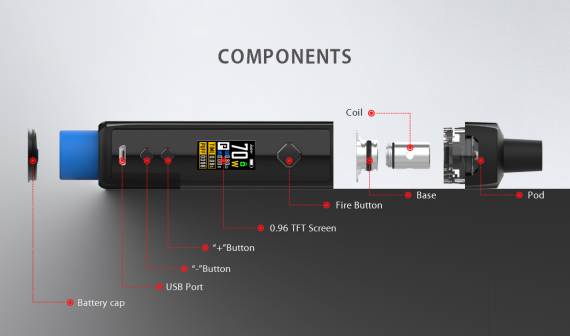 The appearance is recognizable – the form factor is now selected as a PR. Most of the more or less self-respecting vape brands have already presented devices of such a construct – it's time for the Aijoe people. As a decor, colored panels and colorful inserts under the skin. I suppose that not everyone will approve of the choice of developers.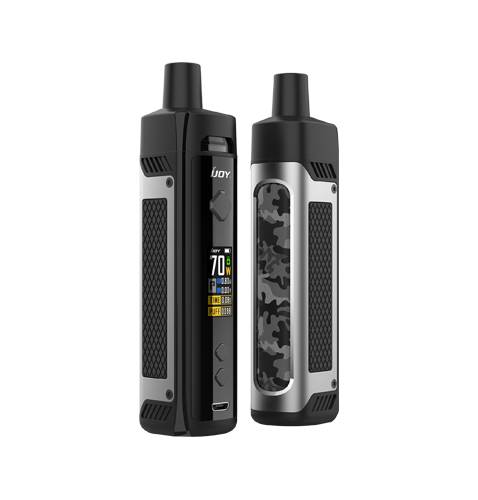 From the start, the manufacturer showed the market a decent range of design options – what to say – bravo. True, the case "almost does not change" its dark color.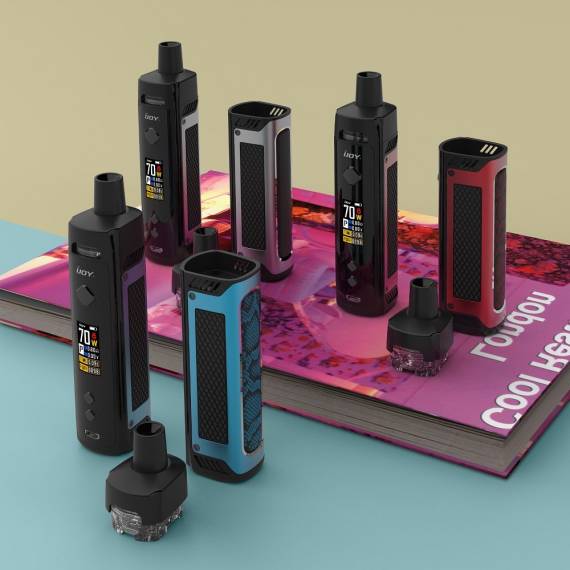 Replaceable cartridge of impressive capacity, will be refilled from the bottom, and fixed with a magnetic connector. For some reason, as I understand it, they did not begin to adjust the blowing – it was in vain.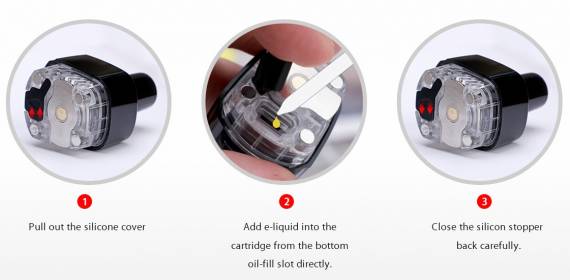 There are two types of replaceable evaporators, one of which is executed on the stack. In addition, they promise a serviced base, sold separately.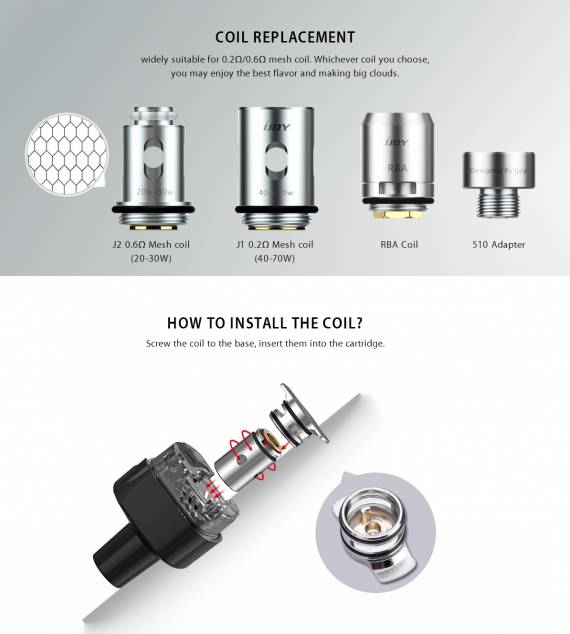 By the way, a photo with an adapter for the 510th connector appeared on the network. It will obviously be sold separately, but on the official website this is still silent.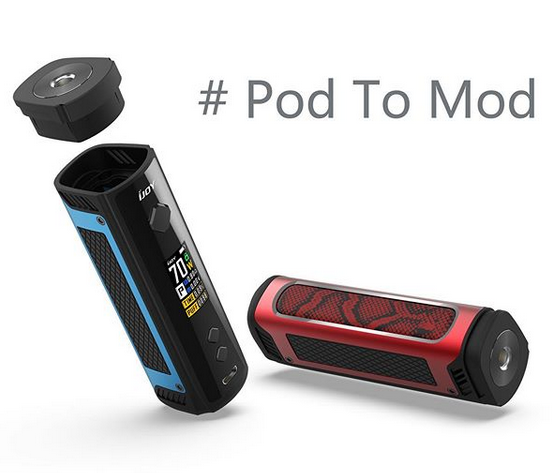 The mod itself has a full control panel. Between the small keys is a standard-sized color display. At the very base is a traditional battery charging port.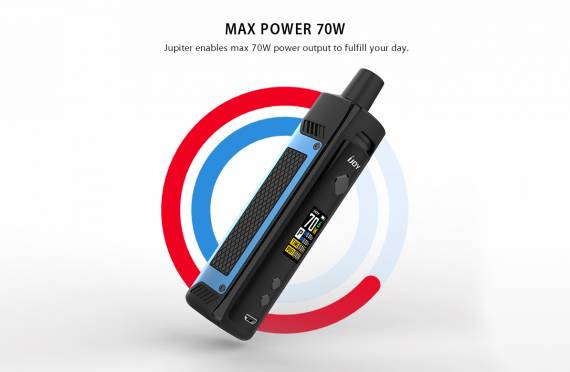 The latter, by the way, is of the external type, moreover, of the most popular standard size. Access to the compartment is blocked by a screw-down lid with a deep embossed key.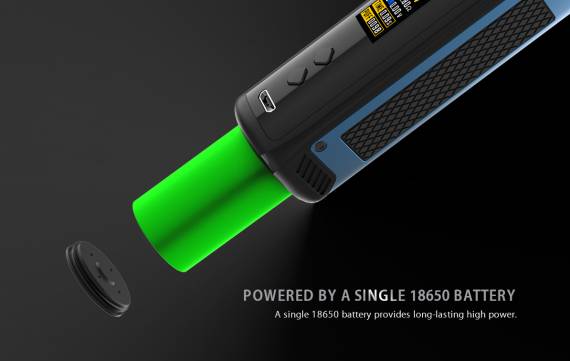 In terms of functionality, everything is "vaguely" – the manufacturer decided not to share this information. The future owner will be available at least varivat. But the information on the range of perceived resistance would be very useful in view of the availability of a serviced base.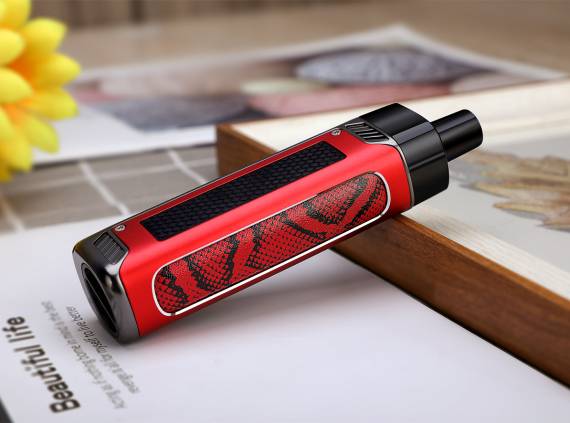 The price is currently unknown, since the novelty was presented just the other day.