SMOK Nfix Pod kit is the perfect portable all-in-one pod vape, which is a good combination of simple design and superb technology. With the slim portable design and easy to carry to anywhere. Weighing just 32g, the sleek Nfix fits comfortably in the palm of your hand. Equipped with a built-in 700mAh battery, Nfix can support a daily use for heavy users. Get rid of frequent charging and focus on your everyday vaping as you want. 
Parameters
Size: 110.5(Height)*21.5(Width)*13(Thickness)mm
Weight: 32g
Battery Capacity: 700mAh
Resistance Range: 0.6Ω-3.0Ω
Power Range: 1W-25W
Pod Capacity: 3ml(Standard Edition)
Standby Current: <50uA
Input Voltage: 3.3V-4.2V
Output Voltage: 0.5V-4.0V
Charging Voltage: 5V±0.2V
Charging Current: Max 0.68A
Overcharge Voltage: 4.3V±0.03V
Overdischarge Voltage: 2.4V±0.03V
Overcharge Current: 1.0A±0.3A
Charging Port: Type-C Port
Screen: 0.69-inch OLED Screen
Colors: Silver / Blue Purple / Green / Gunmetal Green / Red / Black / 7-Color / Champagne Gold
SMOK Nfix Pod System Kit 700mAh 25W (Standard Edition) comes with
1 x Nfix Device(700mAh)
2 x Nfix DC 0.8ohm MTL Pods(3ml)
1 x Type-C Cable
1 x User Manual
SMOK Nfix Kit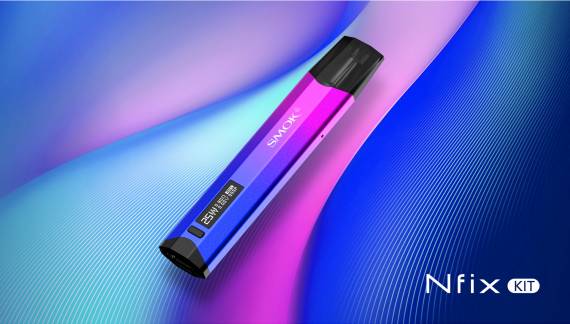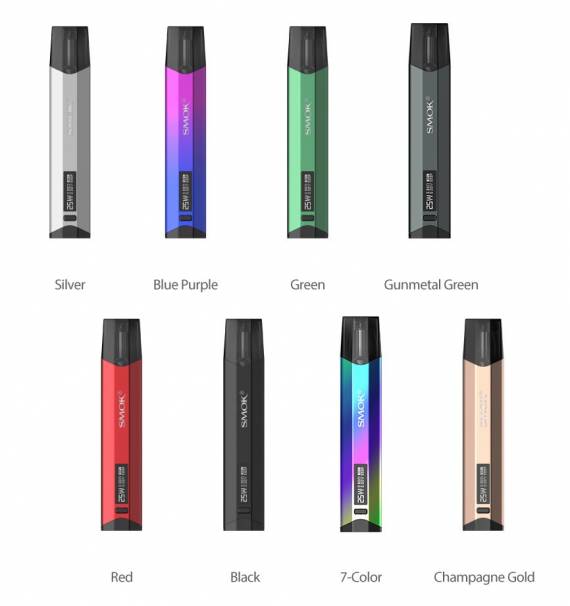 Package
Contents – Nfix mod
– replaceable cartridge 2pcs 0.8Ω (one preinstalled)
– USB Type-C cable
– user manual
– warranty card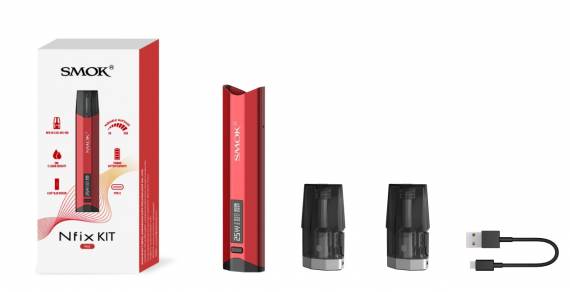 The device looks the most ordinary way – a stick, like a stick – nothing special. The decor is minimal, except that the edges on the case. Dimensions are slightly larger than generally accepted, naturally the height of such a form factor has always been its weakness.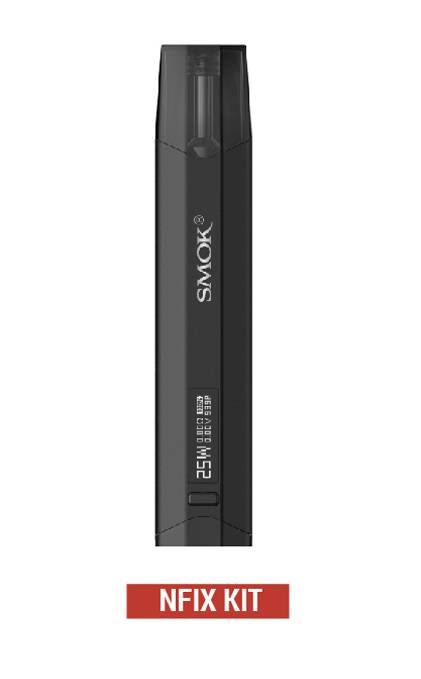 At the time of launch, the developers, as always, without stint, offer as many as eight performance variations. Well done – they never save on this business.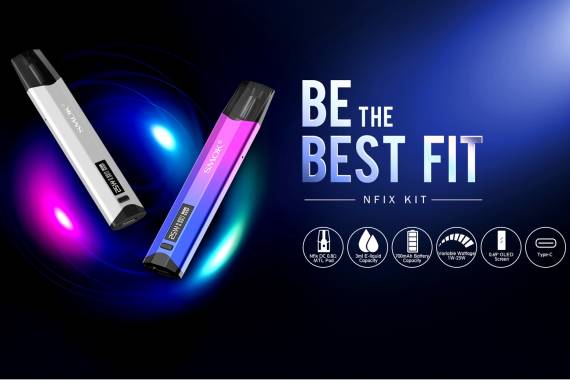 A removable cartridge, fixed by a magnet and has a decent capacity – it is 1.5 times more than the generally accepted standard.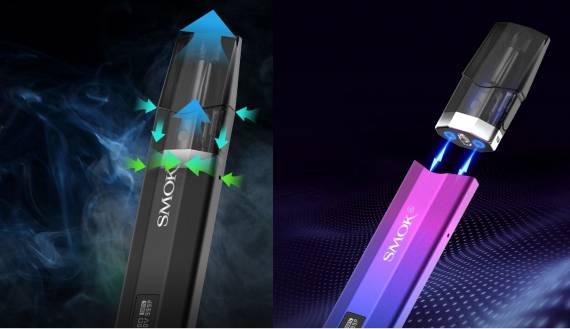 Refueling, although lateral, however, for this procedure, the reservoir still has to be removed from the mod.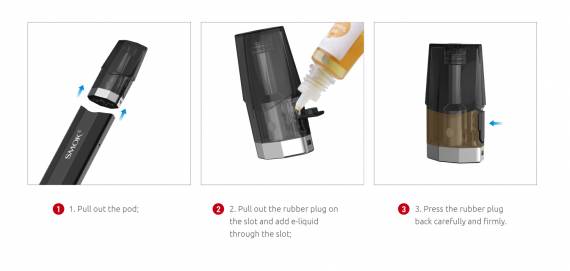 Built-in evaporator with a fairly low resistance, moreover, the kit will only have one cartridge type, but in double quantity. No expected airflow adjustment.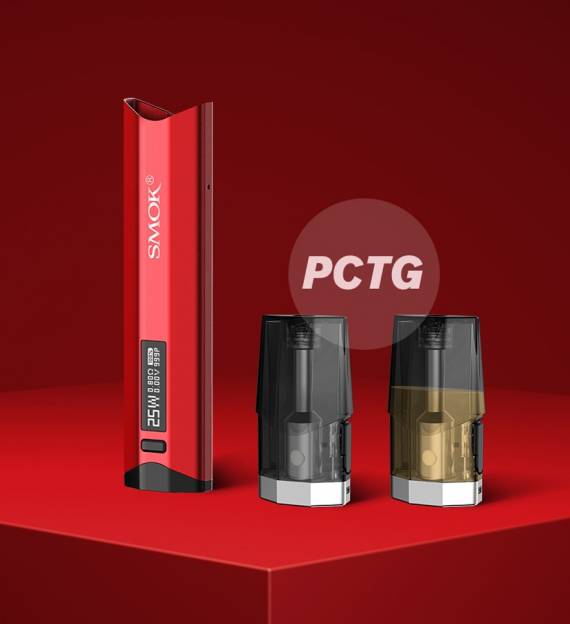 The main body has one single button, and here it is responsible for almost everything. So she knows how to turn the device on and off to regulate power, and also other control functions are assigned to her. But the activation of the device is still left on a puff.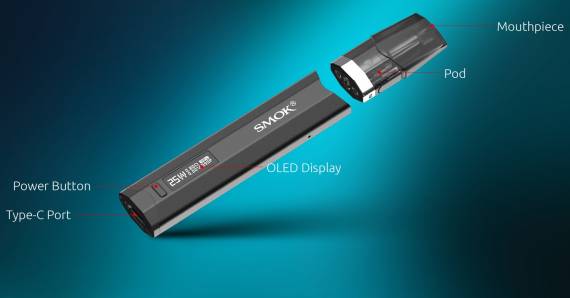 The display is monochrome, the diagonal is small, but enough information is presented on it.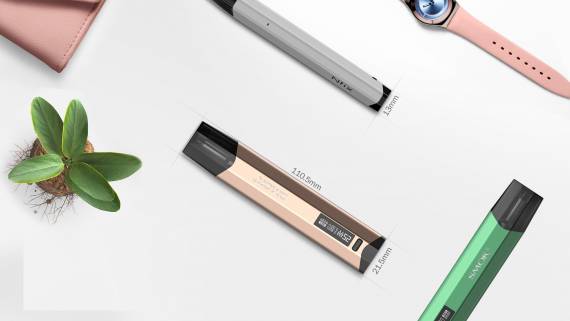 The stick is powered by a built-in battery with good capacity, although with a constantly working display, the last statement can be doubted. But the charging was screwed to her not slow – the full cycle lasts about an hour. The connector for these purposes is provided for a new sample.