I have formed my opinion on disposable devices a long time ago and it is negative. My list of exceptions includes rare cases when liquid manufacturers launch their Disposable devices for sale. In this case, the buyer is at least confident in the quality and origin of the liquid that is offered to him.
A great example is BLVK with its collection of liquids.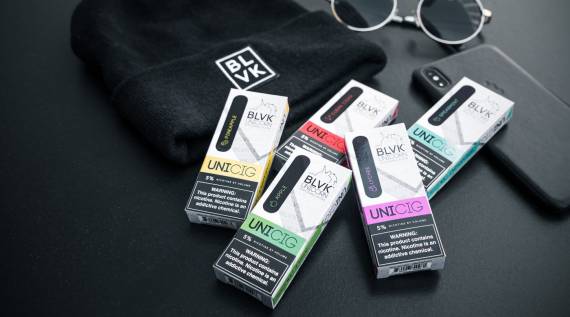 Now the range has been replenished with disposable devices. The device itself is made in a minimalist style and has absolutely nothing that can delay the look.
The declared resource is more than 300 puffs. Of course, salt nicotine is used (5%). 
Only five tastes are available – Apple, Cuban Cigar , Lychee ,Pineapple , Spearmint
UNICIG CUBAN CIGAR
Flavor Profile: Inhale the rich and dark notes of a cuban cigar along with a slight hint of vanilla for one refined cuban cigar blend.
Each Package Contains: One (1) x UniCig Cuban Cigar
UNICIG APPLE
Flavor Profile: A Frozen Apple a day will keep your worries away as the taste of crisp red and green apples collide with a menthol breeze to completely satisfy your senses.
Each Package Contains: One (1) x UniCig Apple
UNICIG PINEAPPLE
Flavor Profile: Noticeably aromatic pineapple chunks are finished off with a layer of cool menthol for a sweet, yet exhilarating smoking experience.
Each Package Contains: One (1) x UniCig Pineapple
UNICIG LYCHEE
Flavor Profile: This blast of sweet lychee with a hit of cool menthol creates an explosion of fruity and chill flavor like you've never experienced before.
Each Package Contains: One (1) x UniCig Lychee
UNICIG SPEARMINT
Flavor Profile: An icy burst on the inhale followed by a smooth and refreshing spearmint experience on the exhale. A must for menthol connoisseurs worldwide.
Each Package Contains: One (1) x UniCig Spearmint